This tag was originally created by Youtuber Faultydevices and she took aspects of several social networks and created questions around them. Her video can be found here. Ariel Bissett however changed the questions slightly, you can watch her video here, and as I prefer her adaption of the tag it is her questions I am going to be doing.
Twitter: Your favourite shortest book.
 The Cay by Theodore Taylor This book was read to us while I was in primary 7 and I never really forgot it. I was given it as a Christmas present two years ago and after rereading it I still felt the same. It is a really moving story particularly considering its only 118 pages.
Facebook: A book everyone pressured you into reading.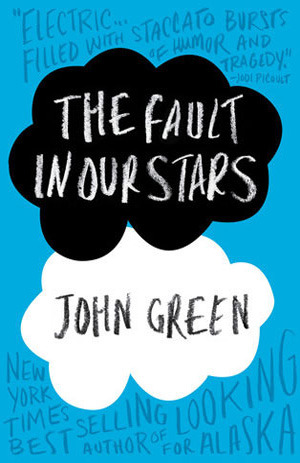 The Fault In Our Stars by John Green I'm not going to lie, I wasn't really fussed about reading this book. I have read a number of stories about people dying of terminal illness and this was just another to me, but a friend of mine got tickets to go and see John Green and I felt like I couldn't go without having read it.
Tumblr: A book you read before it was cool. 
 Twilight by Stephenie Meyer I bought Twilight way back in 2006 with some birthday money I had and I picked it up purely because I liked the cover. Little did I know I was about to fall in love with the book and lend it to all my friends and endure the agonising wait for all the sequels. Before I knew it, it was a massively popular book and it was being turned into a movie and although I do love the book its hard not to feel like you've lost a bit of the magic of finding a great book.
Myspace: A book you don't remember whether you liked or not. 
 When It Happens by Suzane Colasanti I have no idea what I thought of this book. I remember getting it in the mail from amazon. I remember reading it and it not taking very long but I have no idea if I liked it or not. I've currently got it rated 3 stars on Goodreads but it might be time to refresh my memory of this one.
Instagram: A book that was so beautiful that you and to instagram it.
 I Capture The Castle by Dodie Smith I hadn't really been interested in this book, but when I seen this version of the book I finally picked it up and decided it was worth buying. I don't actually have Instgram but if I did I would have shared this cover.  
Youtube: A book you wish would be turned into a movie.
 Angelmaker by Nick Harkaway The whole way through reading the book I kept imagining how good it would be to see it as a film so it was an easy choice for this question. The book is full of interesting description of devices and adventures that I think could be translated beautifully to screen.
Goodreads: A book you recommend to everyone. 
 All Quiet On The Western Front by Erich Maria Remarque I found this question really hard because everyone has their own taste in reading and it's quite challenging to find a book that covers everything. What I've gone for in the end is one I think everyone should read. This book is about the First World War. It tells the story of an ordinary soldier who fought like so many others, but what I think is most important is that it's from the point of view of a German soldier and his story is no different from a British soldiers'.